Prince's Trust International CEO Visits Greece
Prince's Trust International Chief Executive, Will Straw, recalls his recent visit to Greece and the inspirational young people he met
After joining Prince's Trust International amidst the height of the Covid-19 pandemic, I was delighted to finally visit some of our programmes earlier this month. Joining our team on a visit to Greece was fantastic and gave me the opportunity to meet some of the many young people who have taken part in our programmes and are now succeeding in their careers.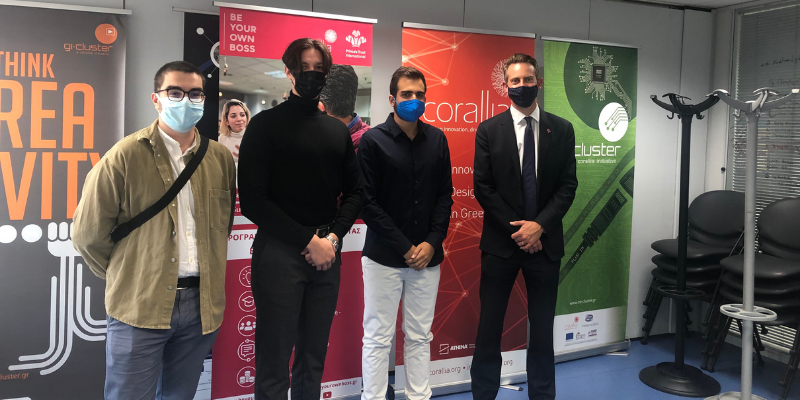 During a meeting with our delivery partner, Corallia, we were introduced to three young people, Angelos, Hector and Stavros (pictured above) who participated in the Be Your Own Boss programme. They attended a 4-day interactive course exploring the practicalities of starting and running a business and then went on to receive guidance from a mentor as they tested their business idea and matured their business plan. Participants like Angelos, Hector and Stavros, who reach the final stage of Be Your Own Boss, can then apply for a start-up loan and further support.
Since completing the programme, Angelos, Hector and Stavros have now started a business called NeedIt, a flexible platform for renting everyday items. It was great to hear how the team developed the idea to help fill a gap in the market that they identified. Commenting on the programme, they said it "helped push us forward a lot, it helped us with our mindset. Before we would have ideas, ideas, ideas but never write them down. The programme helped us have a laser focus." Now, Angelos, Hector and Stavros are eager "to build a great team with people like us who share the same dream and the same passion".
On another visit with Corallia, I met Manos who set up First Cold Brew Coffee following his participation in the Be Your Own Boss programme. During the meeting on the site where their coffee is made, Manos talked to us about his involvement in the Be Your Own Boss programme and his plans to grow the business. We also got to taste First Cold Brew's two different coffee blends – First Cold Brew Single Origin and First Cold Brew Specialty Blend – both of which were delicious!
One of our delivery partners, Knowl, invited us to speak with their newest staff member Maria Provata (pictured below, right). Maria was previously a participant on our Ready to Work programme, so it was great to see her progression. Reflecting on the programme, Maria said that "it helps young people understand that every job is important and that every job is a tool. It gives you not only technical experience but also values and soft skills".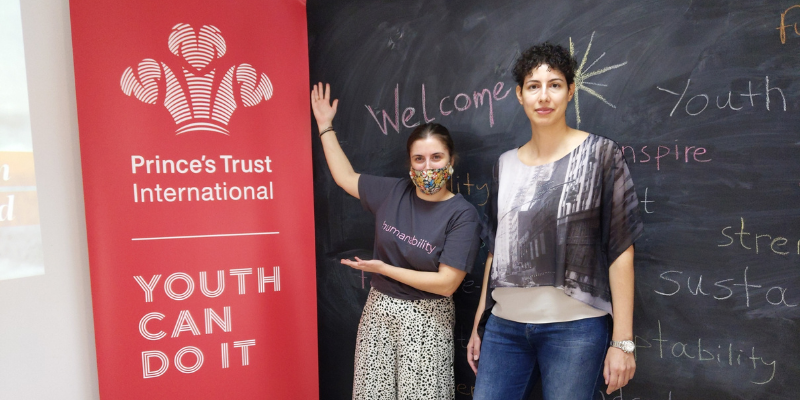 Since joining Knowl, Maria noted that she feels the organisation is "like a large professional family. Everyone supports and helps everyone else at Knowl." Maria now sees her role as an opportunity to give to others what she got from the programme: "it is a chance to give back".
Our final visit was to meet with young people from our Employability Skills programme, delivered by the Scouts of Greece. This programme is designed to equip young Scouts in Greece with the knowledge and skills they need to look for and apply for jobs. Originally, the programme was intended be delivered face to face but the delivery model was pivoted to online in response to Covid-19.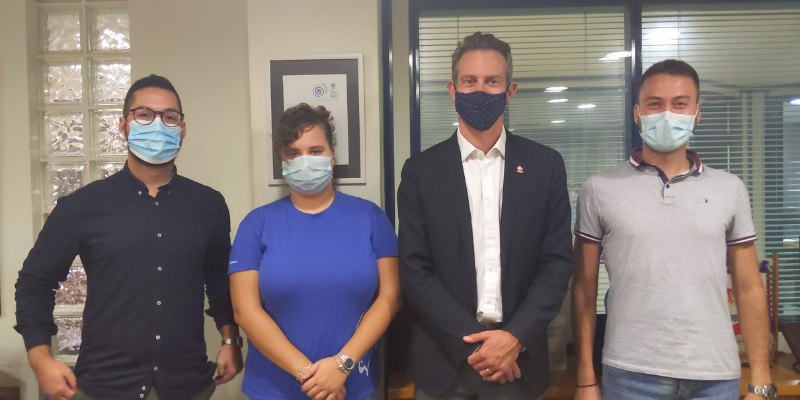 Alexis, Eleni and Konstantinos (pictured above) participated in the Employability Skills pilot programme with the Scouts of Greece in May 2021. At our discussion, Alexis, Eleni and Konstantinos noted that they would recommend the programme to others as they said it helped them to move one more step towards their goals. We are now looking to continue to evolve the programme with the aim of helping more young people to develop the necessary skills to secure jobs.
As well as meeting these young people and our delivery partners, the visit was an opportunity to talk with key figures including HM Ambassador Matthew Lodge who has just begun his posting in Athens, George Stamatis, Secretary General for Social Solidarity and Fight against Poverty who shares PTI's passion to help disadvantaged young people into employment, and the dynamic Mayor of Athens, Kostas Bakoyannis, who is helping PTI take forward our mission.
In these conversations, we discussed Prince's Trust International's recent report into the future of work, including the importance of careers in the green economy and the specific difficulties young people in Greece have faced during the pandemic. We also noted that working together can help to ensure a generation of young people is not left behind, as we leverage these relationships to support young people in harder to reach communities.
Meeting with such inspirational young people and leaders was so valuable. I came back from the visit invigorated by what has been achieved already and the opportunities to continue to grow our work in Greece to the benefit of young people setting out in their journey into employment.