Get Into Launches in Nigeria
Delivery of the Prince's Trust International Get Into programme recently began for the first time in Nigeria, giving young people from the country a new avenue to access sustainable, long-term employment.
In partnership with Field of Skills and Dreams (FSD) VTE, our new local delivery partner, this pilot programme focused on jobs in the Green Economy and was structured into two sector specific cohorts – Get Into Solar Engineering and Get Into Green Baking/Catering.
Following two taster days focused on each of these sectors, facilitated by our International Programme Manager Mike De Roeck and Programme Manager for Nigeria Damilola Sotuminu, 45 young people were successfully began the programme.
"It was especially nice to interact with the young people.Through the interviews and activities at the Taster Day , we learnt so much about their needs and aspirations. This first-hand information is invaluable insight which will assist us in developing even more impactful versions of the programme going forward."
- Damilola Sotuminu, Programmes Manager for Nigeria
After the taster day, each group of young people received three weeks of vocational training in their chosen sector. This initial training is followed by a one-month placement to gain on-the-job experience and further training with employers in the solar energy or green baking/catering sectors.
In addition to the practical experience gained via the vocational elements of the programme, the young people receive mentoring from previous students of Field of Skills and Dreams, as well as programme wellbeing support and post-programme support.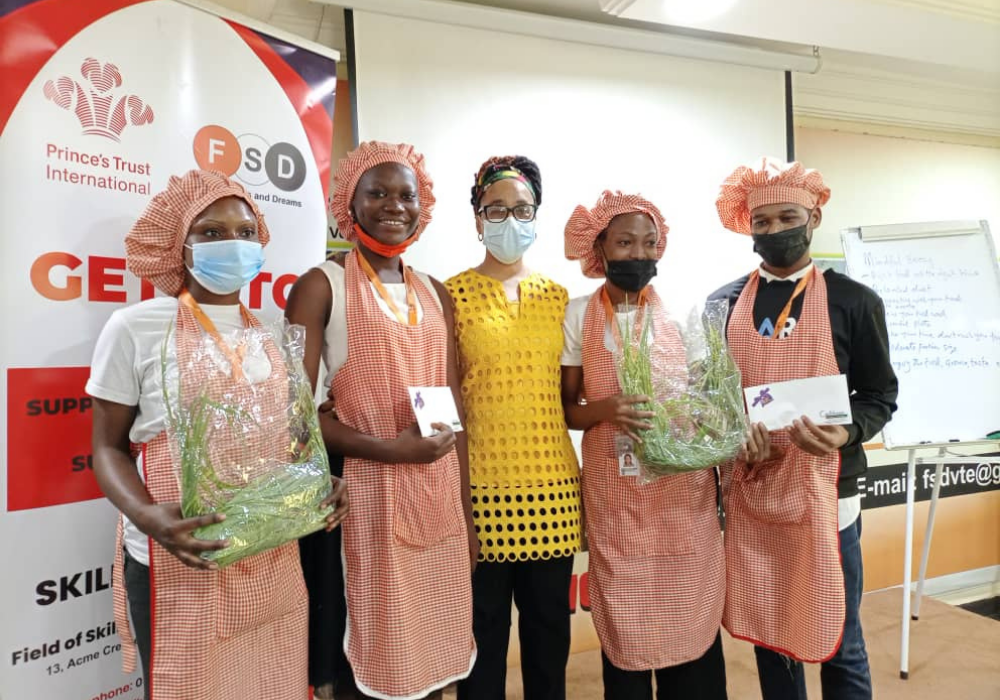 A Green Approach
Together with Field of Skills and Dreams, we worked to carefully adapt Get Into to the country's unique employment and training needs for young people, whilst building on the results of our first Future of Work research, carried out in partnership with HSBC. The research showed that young people around the world have a desire to work in the Green Economy, and that they place jobs that ethical concerns are increasingly important in the job selection process.
To help meet this need, the Get Into programme in Nigeria has initially focused on two areas:
Solar Engineering
This cohort of young people received technical training that will allow them to work as Solar Technicians, as well as receiving mentoring from employers within the sector. This dual approach allows them to gain the practical skills needed to succeed in a career in Solar Engineering and provides them with contextual information about the challenges and opportunities of working within this green sector.
Green Baking/Catering
To support this cohort, we invited expert from the sector to teach two key modules:
Cooking plant-based/eco-friendly meals using sustainable methods
Eco-friendly and holistic health choices
In addition to these hands-on teaching modules, the programme also includes elements of 'clean cooking', waste management, vegan skilling (making a full menu of vegan Nigerian dishes), as well as the use of locally sourced/farmed products.
Our partner: Field of Skills and Dreams
Field of Skills and Dreams (FSD) VTE are a non-governmental organisation created in 2003 by Omowale Ogunrinde, a social entrepreneur who left the banking sector with an aim to address the barriers to employment for young people in Nigeria. The organisation has a deep understanding of the challenges that young people in Nigeria face, especially those from underserved communities.
They deliver quality vocational training and certification to young people with varying degrees of knowledge in areas including:
Electrical Technology and Engineering (Air Conditioning, Refrigeration, Solar Installations)
Hotel and Catering Management,
Event Planning and Decorating
Fashion and Textile Design
Soft skills development, work readiness preparation, leadership training etc…
Through their work, Field of Skills and Dreams has strong links to employers in these sectors, with 19 years of experience working with them to meet the needs of Nigeria's youth. Historically they have maintained a high job placement rate for young people who complete their vocational training opportunities, as well as facilitating good self-employment outcomes for graduates.
This strong history of youth representation and successful outcomes makes them the perfect delivery partner for the Get Into programme in Nigeria.