Digital Innovation for Youth Impact in Africa
According to the UN, the youth population of Africa will have increased by 42% by 2030 and will more than double from current levels by 2055. This rapid growth highlights the ever-increasing need for dedicated support for these young people, empowering them to develop the skills and confidence to enter the workforce or launch their own businesses and prevent issues caused by rising youth unemployment.
Our partners, Asante Africa Foundation (Kenya), Shujaaz, Inc (Kenya) and Harambee Youth Employment Accelerator (Rwanda) work alongside Prince's Trust International to improve employability and enterprise skills for young people. However, at the start of 2020 when the pandemic hit and local and national lockdowns began, traditional delivery of these programmes became impossible and digital innovation was put at the heart of all plans moving forward.
Here is an insight into how we worked with each of these three partners, under difficult circumstances, to continue delivering programmes for young people across Rwanda and Kenya.
Asante Africa Foundation
The Enterprise Challenge programme, which is traditionally delivered as a school-based model, focuses on equipping young people with the skills and knowledge for enterprise, preparing them for life after school. However, with schools closed from March 2020 in Kenya due to the COVID-19 pandemic, Prince's Trust International worked in partnership with Asante Africa Foundation to adapt the delivery model, safely taking the programme directly to young people and into many rural communities.
This approach enabled 60 young people to be engaged across four rural regions, providing an opportunity for young people to understand the aspects required to build and run a business, and allowing them to put theory into action. This was an invaluable experience for each of the young people who took part, particularly at a time when learning opportunities were limited. One example of success following this direct delivery was Ekalele Susan, who won this year's Global Award at the Prince's Trust Awards. Ekalele Susan launched her own grocery business using the skills she developed via the Enterprise Challenge Programme, creating a more stable and sustainable source of income for her entire family.
A large proportion of young people who live in rural Kenya do not have access to digital devices, resulting in low digital literacy levels, and for many of the young people who took part in the programme with Asante Africa this was their first opportunity to engage with a laptop and to be supported digitally beyond the programmatic content.
By adapting the Enterprise Challenge programme, we were able to ensure that young people who had been excluded from remote learning during the pandemic could continue to participate and build skills regardless of their access to technology at home.
The business simulation game and presentation sessions also built young people's transferable skills such as teamwork, communication and problem solving at a time when learning and development opportunities were limited.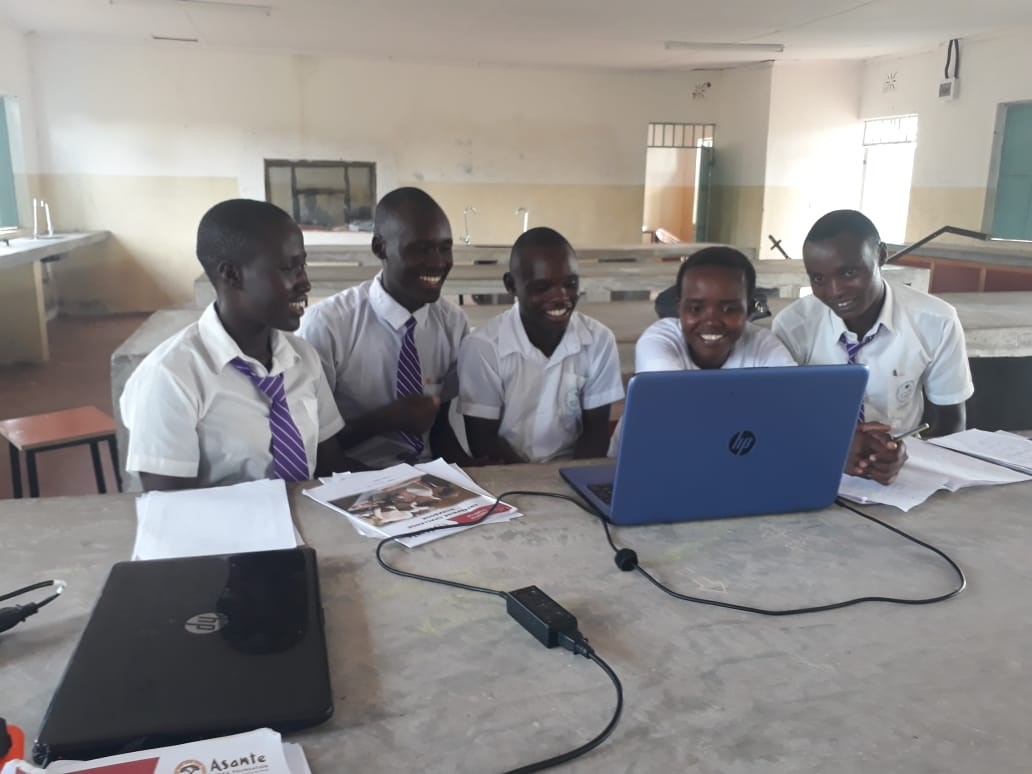 Shujaaz, Inc.
Prince's Trust International has been working with Shujaaz, Inc. over the past 12 months to create programmes for young entrepreneurs. Originally planned to be a fully face-to-face programme, the pandemic prevented groups of young people coming together to learn in community hubs and therefore resulted in a pivot to a fully online programme.
With our support, Shujaaz shifted their programme online, enabling young people to engage digitally via a number of facilitated and independent tracks.  Through this digital innovation, Shujaaz were able to share stories and user generated content from relatable Kenyan role models and combine this with our experience and expertise getting young people into enterprise and self-employment. As a result, our work with Shujaaz has supported young people to develop their networks and build their skills to start and grow their micro enterprises.
To date, we have supported the delivery of seven minimum viable product cycles, with each cycle evolving from the previous one and new digital adaptations being introduced to better address the market and space. Moving forwards, our partnership will be exploring a blended approach, combining digital platforms and face-to-face elements to deliver the programme and support more young people.
Harambee Youth Accelerator
During its initial development, our work with Harambee Youth Employment Accelerator was aimed at developing an employability programme within the Tourism and Hospitality sector in Rwanda. However, when the pandemic began this industry experienced significant downturn, due to strict local COVID-19 restrictions.
This set back meant that we needed to adapt our approach and as a result delivery was changed to focus on a non-sector specific programme called the Bridge Programme. Harambee was able to deliver a fully digital set of modules using a learning management platform alongside live lessons via Go2Meetings. This, supported by WhatsApp groups for the young people to engage with and discuss the curriculum, ensured that successful programme delivery was possible.
Initially the Bridge programme gave young people the opportunity to undertake a four-week intensive English language acceleration course, in tandem with employability training, and modules on professionalism and problem solving. However, based on real time feedback from this group, the Bridge programme has since developed into an entrepreneurial programme which includes sections on customer analysis, and how to identify skills you can make money from.
This fast-paced digital transformation, based on feedback collected through digital methods, is a perfect example of how innovation has not only ensured that delivery could start in Rwanda, but has lead to new areas of development that may not have been explored under normal circumstances.
Over the last year, 169 young people have been supported by Harambee through the Bridge programme, one of whom was Jean Marie Vianney, who went onto launch his own business making reusable shopping bags. You can read his full story here.