Connecting Ideas Webinar – Innovation in Community
Over the course of the last 18 months COVID-19 has drastically changed the way we work, connect and live. It has presented a unique challenge for those of us in the youth sector to adapt, innovate and create delivery that can persist amongst ever changing  restrictions, and global health circumstances. While so much has changed about the world, communities have proven once again to be the backbone of society.
The 'Innovations in Community' Webinar aimed to showcase the ways that communities have come together to support one another and their young people during the COVID-19 pandemic by inviting representatives from other global non-profits working in the International Development sector to discuss the topic.
About The Speakers
During the webinar we heard interesting discussion and explanations around the topics of community and innovation from:
Laura Botsford, Head of Digital & Design, Prince's Trust International
During her presentation Laura discussed the development of our pilot Vibe Check programme, which first rolled out in Barbados and has now extended to Ghana. She highlighted how it has helped young people develop essential soft skills like confidence, communication and managing their feelings and the important role that community has played in both the design and implementation of the programme.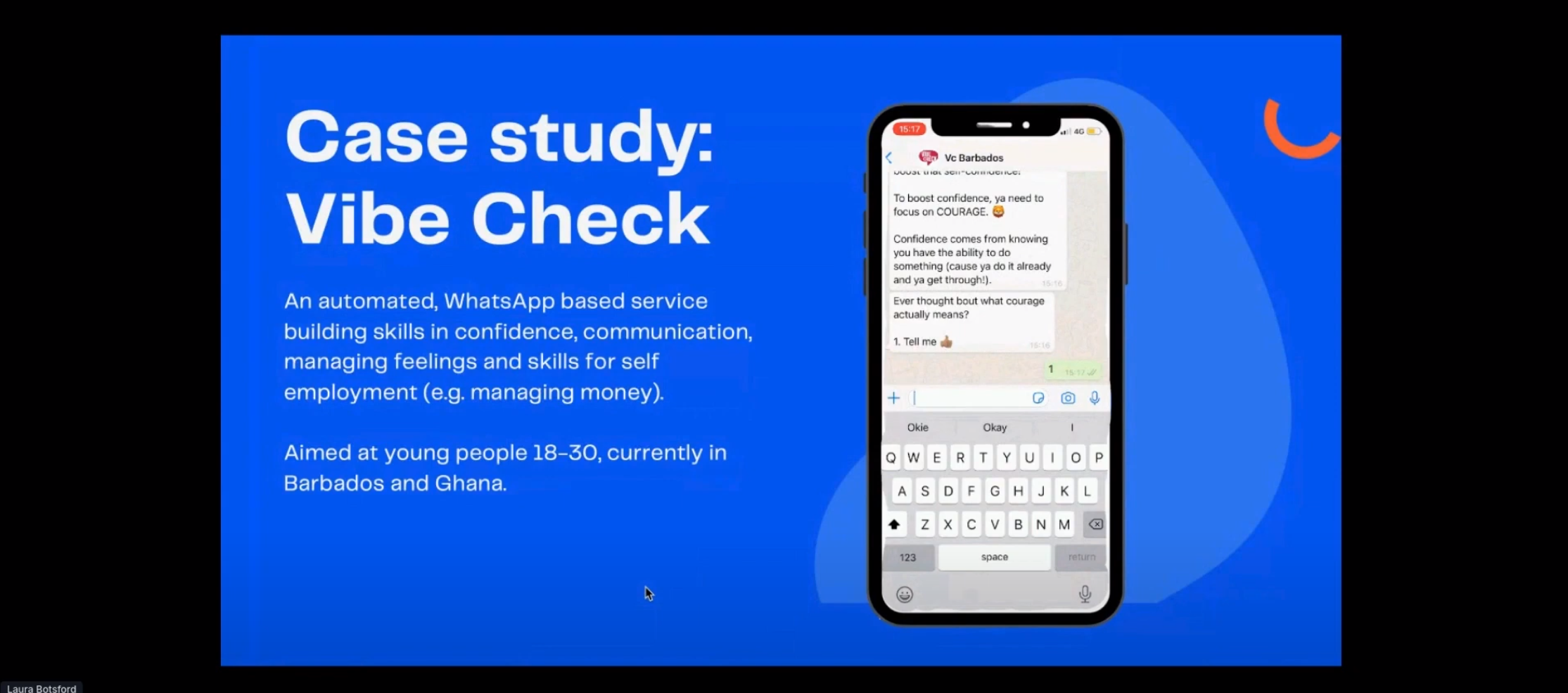 Gloria Jonathan, CEO Barefoot College International
Barefoot College International is a global non-profit that works with women in 93 countries around the world, via programmes designed to economically uplift rural last-mile communities. Their work has impacted more than 2,000,000 people and addresses 14 of the 17 UN Sustainability Goals, with a strong focus on sustainability, skills and women's empowerment.
During her presentation Gloria discussed the grassroots model of the organisation and role that it plays in the long-term sustainable success of rural communities.
She highlighted how, through innovative IVR technology and local partnerships, they were able to connect directly with their network of 'Solar Mamas', who in turn disseminated COVID-19 information and advice within their communities. This activity helped protect against dangerous misinformation and aided people in seeking medical help where needed. This work, alongside their Education, Livelihood, Empowerment, Agriculture, Water, Community and Health programmes positioned Barefoot College International perfectly to discuss the issues facing rural communities, and the important innovations that have been developed to ensure their continued prosperity.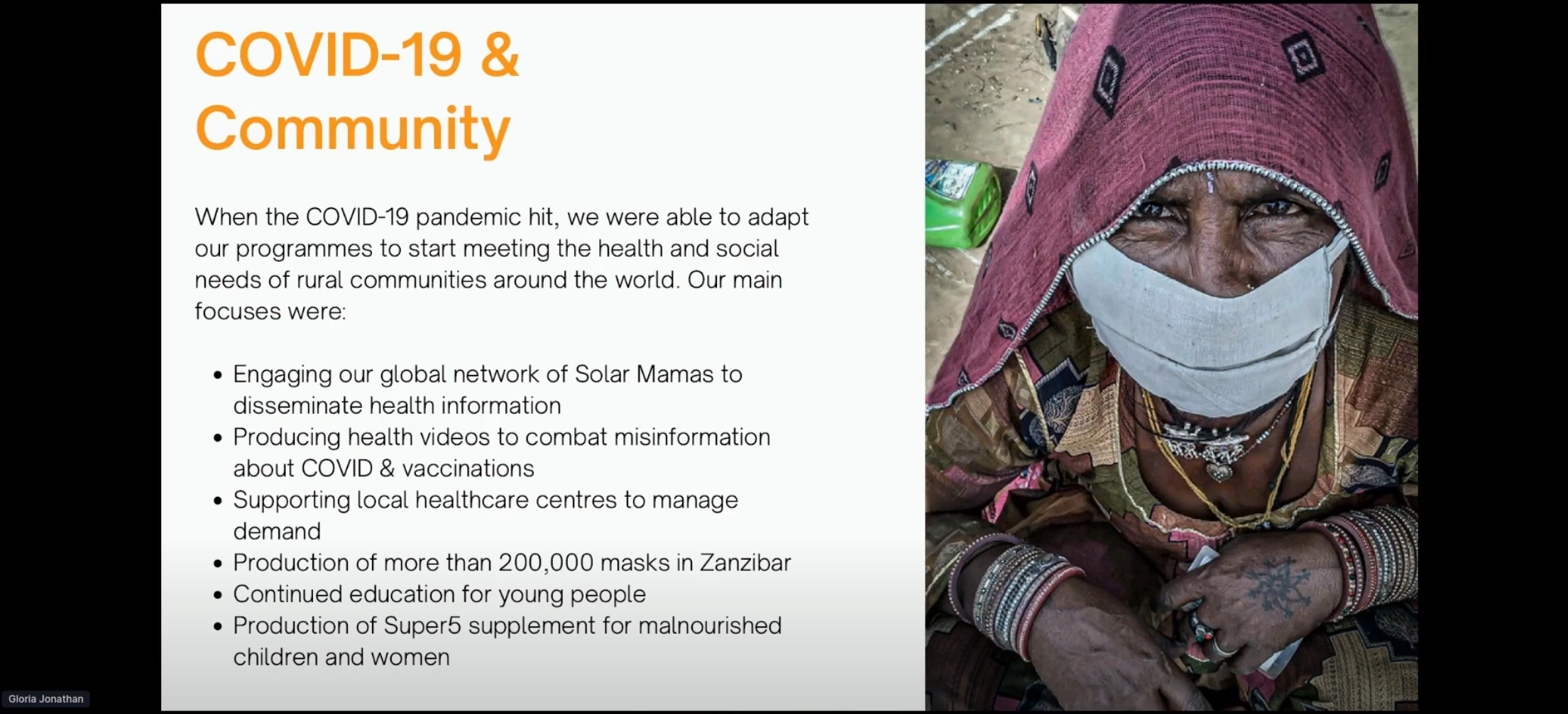 Sheila Ampumuza, Country Director and Esther Makooma, Monitoring and Evaluations Lead, Sawa World
Sawa World is a non-profit organisation based in Kampala, Uganda which works with young people who have found local skills and gives them the support to lift themselves out of poverty. Their work focuses on young people living in poverty, training them to utilise their skills, start businesses and share knowledge with their peers.
During the webinar they highlighted how they have managed to engage marginalised youth during the pandemic through self-employment skills, using both online and offline tools. This blend of approaches was essential in their continued activity and meant that they could continue to access young people in all circumstances and across different regions during the pandemic. They were able to explore different tools, such as WhatsApp and YouTube, to address young people directly, whilst galvanising their Youth Ambassadors to disseminate information to young people within their own communities.
Importantly, Sawa World saw the limits of connectivity in rural areas, noticing that only 30% own a smartphone and that sharing skills at the community level was a successful and sustainable dissemination tactic. By working with a blended approach, Sawa World learned that their tools can combine successfully for young people.

By brining together voices from across the development sector, this Connecting Ideas Webinar shone an important light on the challenges organisations like ours have faced when providing support to communities over the past 18 months.
However, it also highlighted the immense successes, technological innovations and huge impact that continues to be achieved despite these challenging odds. We are grateful for the participation of all our speakers and look forward to our next webinar in the coming months.