Saraswati , Project Lehar
Shopkeeper Saraswati used to be nervous about speaking to strangers. She's since transformed into an accomplished young businesswoman, confidently negotiating prices with wholesale suppliers hundreds of miles from home.
Saraswati lives with her mother and younger sister in a low-income neighborhood in Bihar, eastern India. The shop she runs from their front room sells craft supplies, beauty products, clothes and jewellery.  
Saraswati's main customers are girls and young women, who flock here to buy earrings, bracelets, Bindi, nail polish and hair accessories. She sources some of her stock from the city of Kolkata – almost 400 miles away1 – and the glamorous gold-coloured bangles are particularly popular. 
Saraswati's mother set up the shop to support the family after her husband, Saraswati's father, died and the family had to move in with relatives. Saraswati has always helped, but since attending entrepreneurship sessions at Project Lehar, she has become the driving force behind the business – and it is booming. 
'I feel very proud and happy that the shop is running well,' she says. 'I feel that I get more respect from my peers and my elders now, and I'm glad to contribute to my family's earnings.'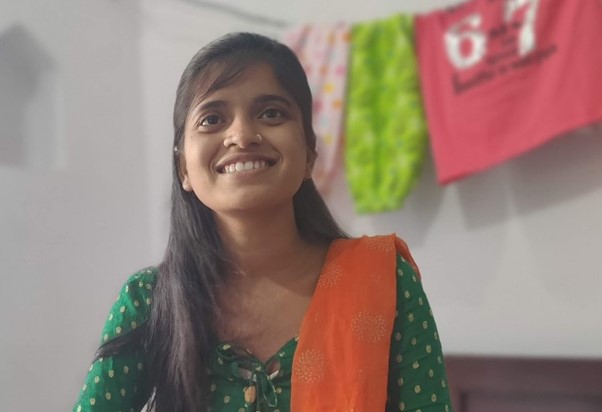 Confidence and skills
Project Lehar is run by the Aga Khan Foundation with support from Prince's Trust International. It offers vocational training, entrepreneurship and life skills courses for girls and young women from poor backgrounds. It also supports girls who left school early to complete their education.
Saraswati credits Project Lehar with helping her to develop the confidence and enterprise skills she needs to steer her business to success. She highlights stock-taking and managing cash flow as particularly useful skills, along with engaging with customers and suppliers.
'At first, I was very apprehensive about speaking to customers and members of my community,' she recalls. 'Now, when they come to my shop, I feel very confident and find it easy to speak to them and negotiate purchases.'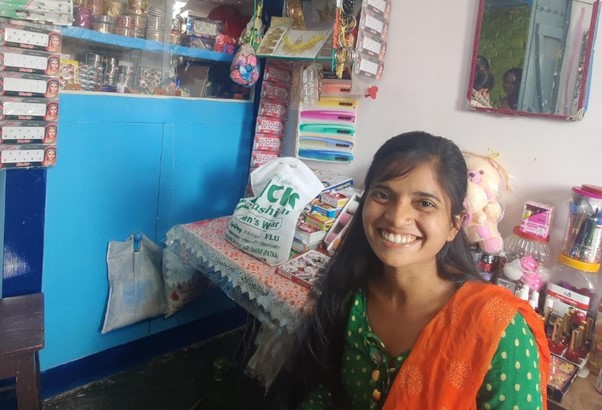 Practice and perseverance
Sarawati's confidence developed step-by-step, cultivated first by the entrepreneurship course, and then nurtured on a second Lehar programme, the community challenge. This gives young women the opportunity to put their newfound learning into practice in real life, working in small teams to design and deliver a project to benefit their local community.
Saraswati and her team decided to paint a mural focused on litter and hygiene. At first, they faced stiff resistance from relatives and neighbors, and had to work hard to convince them that the project was a good idea. The team persevered and, as the mural progressed, they won people over. Neighborhood families even started sending their children out to help paint.
'When I first heard about the community challenge, I wondered if I would feel brave enough to convince people and do the painting,' Saraswati remembers. 'Eventually, we worked as a team, made a good mural and people saw that we were doing it to spread a good message about hygiene. Little girls still speak about the project and look up to us. It is a very nice feeling.'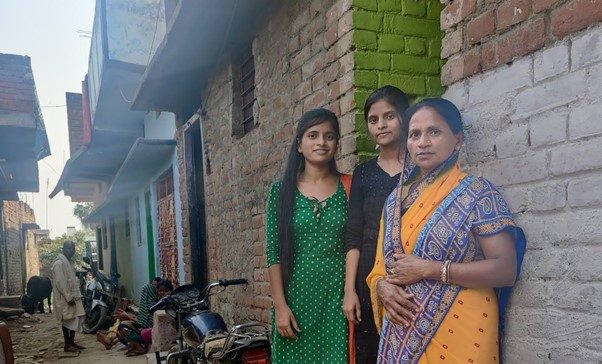 An impressive journey
The communication, persuasion, assertiveness, and resilience skills that Saraswati honed through her community challenge are very much the same skills that she draws on today when negotiating prices. And as she has grown in confidence, she's also been able to push through her nervousness about trying other new things too – such as business trips.
In Saraswati's community, girls and young women rarely travel far from home. Financial, practical, and cultural factors all restrict their mobility. But Saraswati has broken through these barriers. She now makes the 14-hour journey to Kolkata – accompanied by her brother who lives there – to source stock for her shop from wholesale city markets.
These business trips are a particular source of pride for Saraswati, and with each step of her journey, she hopes to forge a path for others to one day follow in her footsteps. 'We hope to become an example for the little girls in our community,' she explains.
Building on the skills and confidence she's gained, Saraswati has started taking the initiative in her local community too. She has teamed up with her sister and other local young women who took part in the Lehar programme alongside them, to set up a neighbourhood library and study centre for girls and young women. Saraswati has always continued studying alongside her entrepreneurial activities, and hopes one day to become a government official.