Gamar (15) lives just outside Kingston, Jamaica, in a neighbourhood where the main job options are farming or fishing. He's in year 10 at school, in a class of 43 students.
Despite getting good marks at school, Gamar's shyness used to hold him back. However, joining the Achieve programme, run by Junior Achievement Jamaica in partnership with Prince's Trust International, has helped him to overcome this obstacle.
In his Achieve group, Gamar is one of just seven students. The sessions, which he attends two or three times each week, are very different to his other classes. There's no chalk and talk. Achieve offers practical, topic-based learning, with students working on hands-on projects and activities in small groups, with a strong emphasis on building confidence as well as practical skills.
"I didn't have much confidence or determination back before I started. I'm really grateful for this opportunity, especially some of the stuff I've been exposed to and some of the strengths I've gained. I don't think I'd have gained those strengths without this programme."
Achieve's small group sizes give students who are usually quiet or reserved the chance to become comfortable speaking in front of others, with repeated practice in contributing ideas, joining discussions, making plans and solving problems together.
'It was different because there were less children and we got more attention from the teacher and we could focus more and concentrate,' Gamar recalls. 'We got more time to express ourselves.'
Gamar describes how one of his group's projects was to refurbish a rusty old security grille which had previously covered a window, transforming it into a colourful planter for their school grounds. 'We sanded it down with sandpaper, painted it with the primer, then we took it down to the industrial workshop and got them to weld it, and then we painted it again,'  he recalls.
Designing and delivering this kind of project fosters a can-do attitude, encouraging students to see themselves as people who can make things happen, and can make a difference in their local community. It also gives them the opportunity to learn by doing.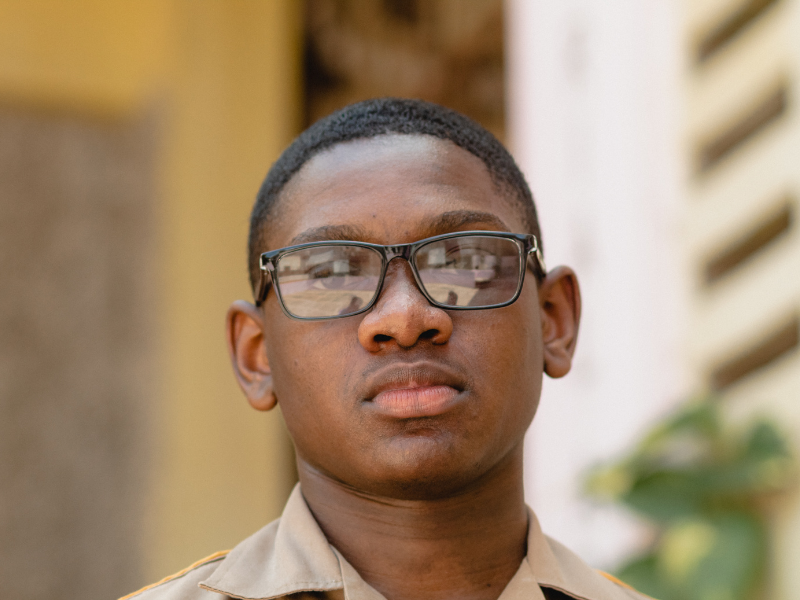 "We had to practise our teamwork and communication skills. It's good to have those skills because they'll help me be effective in the future. You always need to communicate with others and teamwork will help you to do your job better."
Gamar is very clear about what job he hopes to do. 'I want to be an entrepreneur,' he says, bubbling with enthusiasm. 'I want to own a restaurant and sell jerk chicken.'
As an entrepreneur, Gamar knows he may face setbacks, but says that the programme has helped him to get better at seeing things through without getting discouraged.
"I've got more determination now! That determination will help me because if I've got a business idea and I go and pitch my idea and they turn it down, I've got the determination to keep trying and trying and trying and not give up."
Gamar's increased confidence and determination has seen him make changes in his personal life too. He feels more able to resist peer pressure and to have the courage of his convictions, saying no to things he doesn't want to get involved with. 'I've developed the strength to stand up and say no,' he explains. 'Sometimes it can be hard to stand up to people. This programme has helped me because it helps me to be firm.'
Gamar's newfound assertiveness and self-belief has also spilled over into his other lessons, where he now joins in more. 'I'm a very shy person but I got more confident and now I can speak in my other classes,' he says.
Shantol Parris, who manages the programme for Junior Achievement Jamaica, describes how this is exactly the kind of impact the programme strives for, where skills and confidence built through the Achieve sessions enable students to engage more fully with their mainstream lessons too.
'The programme gives you that opportunity to build confidence and self-esteem, and you take that with you to your other classes,' she explains. 'For example, you've become happy to speak in front of the Achieve group, you've had that practice, and that confidence helps you to participate more in your mainstream classes too.'
With its flexible framework, informal style and focus on practical activities, Achieve is very different from other school-based learning. But it does have one thing in common – the chance for young people to get a qualification which will enhance their CV. Howver, unlike most qualifications, the Achieve certificate, which has different levels, requires no exam. Instead, students submit a portfolio of evidence showing how they've met the criteria.
 'That qualification will help me because it will show that I've got certain qualities and that will give me a better chance to move on and continue my studies,' he explains. Unsurprisingly, given his entrepreneurial ambitions, when Gamar leaves school he hopes to study business.