Fatima, Enterprise Challenge
At just fifteen, Fatima is already part of a prize-winning entrepreneurial team, and one which is focused entirely on empowering other entrepreneurs – especially women.
In rural Pakistan, formal jobs are in short supply. Traditional gender norms – including childcare and household responsibilities – make it particularly difficult for women to go out to work, so many work from home, running micro-businesses focused on sewing, embroidery or cooking traditional food.
But in the mountainous Hunza region, where Fatima lives, mobility and transport difficulties make it hard for home-based producers to reach customers beyond their own village. This dramatically limits their income.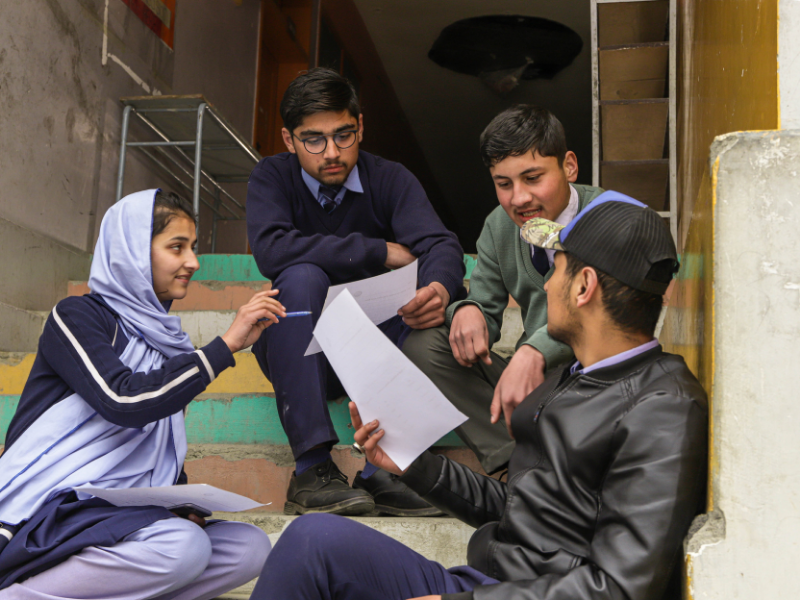 So Fatima and four of her schoolmates have come up with an idea to change this – an e-commerce platform that will connect local, home-based producers with customers further afield, including the many tourists who visit Hunza each year.
With £3,000 in start-up funding – the team's prize from winning Enterprise Challenge Pakistan – Fatima and her young team are now poised to turn their idea into reality, with a platform that will include both a website and a mobile app.
Enterprise Challenge Pakistan is an annual inter-school business competition, a joint initiative from Prince's Trust International and SEED Ventures. Now in its fifth year, the programme enables school students to learn practical business skills through coaching, mentoring and an online business simulation game.
'Business pitching was the most useful skill that I learned,' recalls Fatima, who will look after the front end of the team's website.  'I want to create businesses in the future and now I understand how to pitch to potential investors.'
As part of the Enterprise Challenge programme, teams of teenagers design and develop their own business idea, concentrating on enterprises with a positive social impact, as well as profit-making potential. Fatima explains that the decision to focus on local women entrepreneurs wasn't only about enabling them to increase their income, but also about increasing their power.
'When girls and women are economically dependent, they can't make decisions for themselves. This platform will allow them to become economically independent. It is my dream to be able to make women economically independent, so that they can make their own decisions.'
As with many start-ups, Fatima's team hopes to build customers initially through links with family, friends and contacts – as well as through targeted digital ads. Fatima expects that her family will use the platform as both buyers and sellers. 'My uncle's wife makes lots of handicrafts and she's already said that she's interested,' Fatima explains.
Having seen first hand the benefits of taking part in the programme, Fatima is now keen to encourage other young people to get involved – even those who might think that their school subject choices don't fit well with entrepreneurship.
'Whatever subjects you're studying, entrepreneurship can be for you. Don't dismiss it, because entrepreneurship is for everyone!'
Mariyam Toor from SEED, the programme manager, seconds this, 'We believe in changing young people's mentality from viewing themselves only as job seekers to viewing themselves as potential job creators,' she explains, 'Whatever your path, you can integrate entrepreneurship into your career.'