Though many young people around the world lost jobs during the COVID-19 pandemic, Sage managed to find employment after a friend urged him to join the Get Into programme. The 23-year-old from St Michael, Barbados had just finished a degree in Chemistry and despite this, he found it hard to find a job, having sent off countless applications. Now Sage uses the skills he learned in Get Into programme at his new insurance job and is working towards  being a teacher in the future.
'I want to teach. I am all for learning and growing any way that I can, so any opportunity that presents itself I would take advantage of it.'
Prince's Trust International works with the Youth Division of the Ministry of Youth and Community Empowerment to deliver a range of employability programmes to support unemployed young people into work. Get Into and Get Hired programmes are tailored to meet the needs of the job market and young people. Since the inception of the partnership in 2016 programmes has been run in the hospitality, retail, logistics, construction, and uniformed services industries.
The Get Into programme helps to break down the barriers between unemployed young people and employers by providing young people with intensive employability skills training (teamwork, problem solving, responsibility, communication), before moving into sector specific / vocational skills training and a period of job shadowing, so young people can gain the real-world experience they need to move into sustainable employment.
Sage first joined the Get Into Logistics programme in October 2019. After learning he was one of the oldest participants in the programme, he quickly realised this was a valuable learning opportunity. Sage reminded himself to think from the point of view of the young participants and be more aware about how he communicated. He also took the opportunity to focus more on his teaching skills as the younger participants would come to him for advice during the programme.
'I think what I did learn was to be more adaptable, before I just wanted life to fit around me, but the Get Into programme made me realise sometimes you have to fit into your environment and adapt to situations.'
After honing his teamwork and communications skills in the Get Into programme, Sage found work in the hospitality industry for a short time. When the COVID-19 pandemic first hit Barbados in 2020, he was unemployed and unsure of what the future held. But the Ministry of Youth stayed in touch and in August 2020 they offered Sage the opportunity to come back for another Get Into programme aimed at helping young people find work during the pandemic.
As COVID-19 was unprecedented, the focus of the programme was resilience and it really opened Sage's eyes to opportunities he hadn't considered before.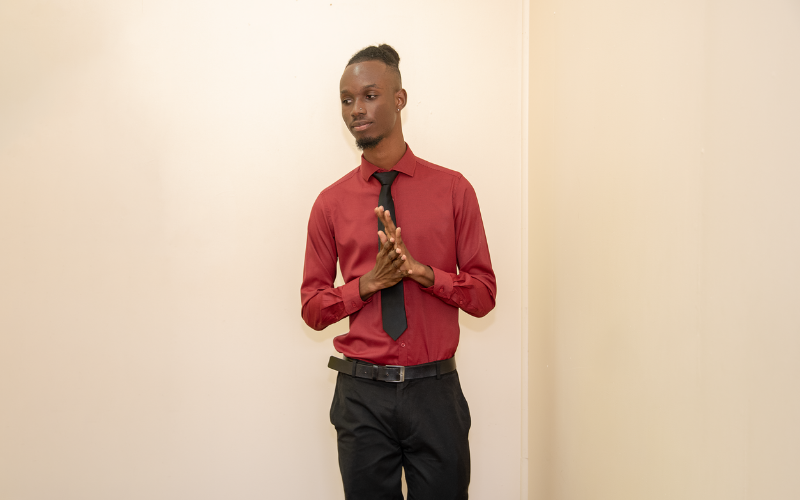 'It pushed me to really open up my mind to what I could do, or the opportunities that are available so I wouldn't miss out on good opportunities. Going forward I would be more open minded to things, and I would take on any opportunity to grow and learn.'
While participating in the programme Sage met with the HR manager from the Insurance Cooperation of Barbados LTD (ICBL) who was leading a seminar on how to prepare for jobs. After not being employed and unsure of what the future held, Sage was offered a referral from the HR manager at ICBL.
Now Sage is working on the front line of an insurance company with over 200 employees. He had to put all the skills he had learned from the Get Into programmes into practice in his first few weeks while he adjusted to the fast-paced environment of insurance. Sage found that the skills he gained in communication have been most helpful in his new role and he has adapted his communication style to each individual client so they can get the best experience when calling ICBL.
Although Sage still has plans to be a teacher in the future, he is finding that his new job offers him a lot of opportunities to learn and grow. He would urge other young people to grab the opportunity of taking part in the Get Into programme if they are offered the chance, as it changed his life.
'It really has changed my situation; I went from being unemployed to having a job. Get Into really gave me a lot of opportunities to grow as a young person. One of the biggest things that I have realised, going into companies, they want you to have experience, if you have experience with people or experience working that always helps. I would tell all of the young people definitely do Get Into, you will make connections, you will learn, opportunities will come up. It is definitely a good push forward, wherever you are if you have a degree or if you just came out of school it's a good step to take.'