Prince's Trust International signs agreement with Lucky Cement to launch new entrepreneurship programme in Pakistan
This week, our Chief Executive Officer Will Straw signed an agreement with Lucky Cement at a virtual ceremony hosted by the British Deputy High Commissioner to Pakistan and Trade Director Mike Nithavrianakis.
Over three years, this new enterprise programme will work with 450 young people in Pakistan to build their interpersonal and professional skillset, enabling them to learn about entrepreneurship and how to launch their own businesses. It will be based on our existing Enterprise Programme, currently delivered by Prince's Trust International and partners in Greece, Jamaica, and Barbados. Over the coming months, Prince's Trust International will be looking to identify suitable partners to help deliver the programme in Pakistan.
Prince's Trust International Chief Executive Officer Will Straw commented: "Since 2016, Prince's Trust International has supported thousands of young people in Pakistan to develop enterprise skills in schools. Thanks to the generous support of Lucky Cement, we are delighted that we are launching a new Explore Enterprise programme for young adults which will help offer training and mentoring to test business ideas, write business plans and ultimately start their own business".
British Deputy High Commissioner to Pakistan and Trade Director Mike Nithavrianakis added: "Enabling young people in Pakistan reach their full potential is one of the UK's top priorities. This entrepreneurship programme will not only help tackle unemployment, but also boost the prospects for innovative business start-ups to transform the lives of their founders and employees. I congratulate Prince's Trust International for the ambitions they have for the Enterprise programme and am grateful to Lucky Group and Muhammad Ali Tabba for their generous support of this programme".
Earlier this year, Prince's Trust International launched a report into the future of work, supported by HSBC, to help inform its programmes. The report found that that young people in Pakistan want to learn more life skills to prepare them for the world of work, while many show an eagerness to set up their own businesses. Of the young people surveyed in Pakistan, 44% said setting up their own business was the profession that they would most like to work in, ahead of working for a large business (37%) or the government (40%).
In Pakistan, we currently work with SEED Ventures to deliver an Enterprise Challenge programme across secondary schools. Enterprise Challenge Pakistan is the largest inter-school business competition in the country enabling teams to learn practical business skills through coaching, mentoring and an online business simulation game. After completing the programme, 96% of young people said that they could explain the field of social entrepreneurship to family and friends, while 81% had a better idea about whether entrepreneurship could be a future career option.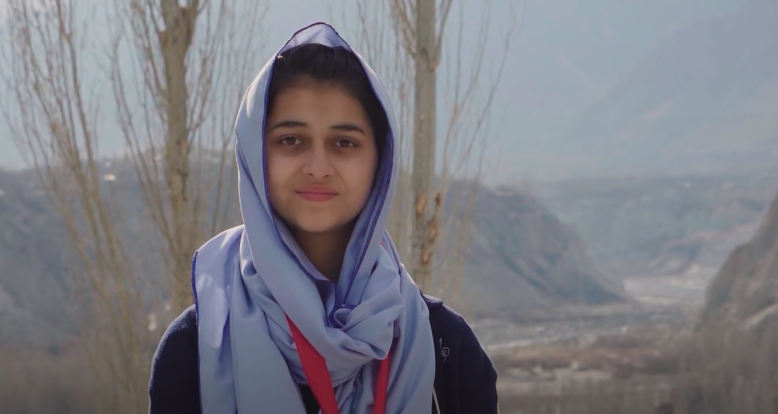 One young person who has benefitted from our existing enterprise programme is Fatima. In rural Pakistan, where Fatima lives, traditional gender norms, combined with transport and mobility difficulties, make it hard for women to go out to work. Many work from home, running micro-businesses focused on sewing, embroidery or cooking traditional food.
While participating in Enterprise Challenge Pakistan, Fatima and her four schoolmates developed the idea of an e-commerce platform that will connect local, home-based producers with customers further afield, including the many tourists who visit the region each year.
With £3,000 in start-up funding – the team's prize from winning Enterprise Challenge Pakistan – Fatima and her young team are now poised to turn their idea into reality, with a platform that will include both a website and a mobile app. Speaking about the business, Fatima said that "it is my dream to be able to make women economically independent, so that they can make their own decisions".
As we move into 2022, we are aiming to continue to expand our programmes and partnerships in Pakistan with the goal of supporting over 4,000 young people in the next three years through entrepreneurship, education and employability programmes.