Farah has worked for three decades in the global creative and media industries with an unfaltering belief in the power of creativity to tackle the world's toughest problems.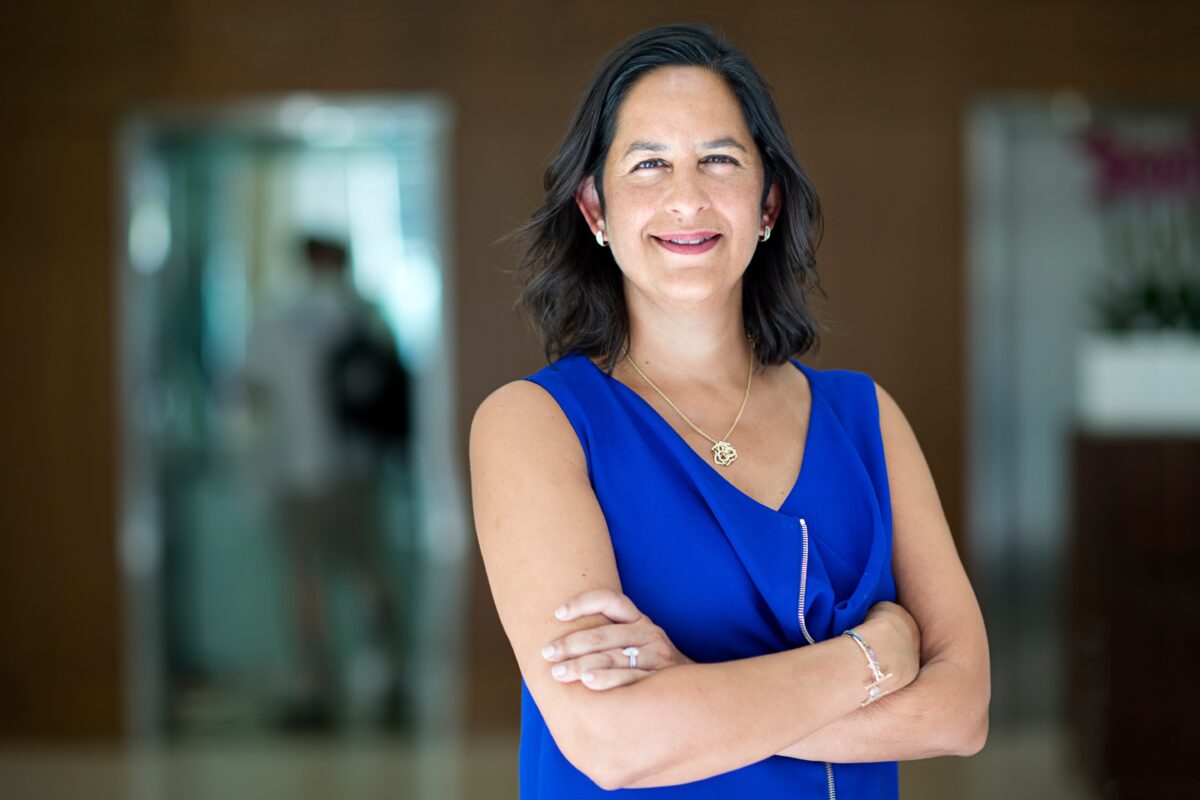 Farah has dedicated her lifetime's work to scaling businesses, talent and creativity to bring
about better economic and social outcomes. Central to that has been working in leadership,
executive and advisory capacities across private, public and non-profit settings.
Motivated by the opportunity she saw in kyu to address the delta between the abundance of
talent and groundbreaking ideas but the scarcity of new models, organisations, and codes to
sustain change, she joined kyu in 2018. Her mandate is to leverage the opportunities and deliver change to help grow the strategically curated creative Collective and further its purpose to propel the economy and society forward.
In her capacity as President, Farah is responsible for setting the conditions to enable innovation and accelerate the growth ambitions of the Collective's member companies. Specifically, she develops systems of intelligence, collaboration, and belonging to deliver high impact results for their clients and society at large. In doing this work, she leads cross-disciplinary teams, and strives for unity without uniformity, and diversity without division.
A proponent of the view that creativity, as both an art and a science, applied intelligently can
address the world's most complex challenges, Farah also plays an active role in kyu's
investment effort. The quest is to seek out founder-led companies that will flourish in joining the Collective and add to its purpose. Today, the kyu Collective is a formidable creative force of exceptional firms including: IDEO, the design and innovation firm; Kepler Group, a data-driven media company; Sid Lee, the brand-building advertising network; SYPartners, a leadership transformation consultancy; BEworks, a behavioural science consultancy; Gehl, an urban design consultancy; and Public Digital, a digital transformation group. In total there are 22 member companies each practising their best in class creative "edge".
In her previous role as the first CEO of Girl Effect, she accelerated its reach to over 50 million
people in Africa and Asia. A non-profit organisation founded by the Nike Foundation in
collaboration with United Nations Foundation and NoVo Foundation, Girl Effect's goal is to
promote positive economic and social change for girls globally. Caring deeply about lifting the voice of the underrepresented, Farah fast-tracked and integrated new technologies e.g. a
proprietary chatbot and data-visualisation systems into the organisation's capability. This
enabled the uncovering of authentic, unfiltered insights from highly isolated girls in
hard-to-access communities and powered innovations, such as media brands for social change in Ethiopia, Rwanda, Malawi, Nigeria and India. This approach has been recognised by governments and institutional philanthropists as an effective model for empowering girls to improve their lives.
At All3Media, a multinational television, film and digital production and distribution group
backed by private equity company Permira, Farah provided a new strategic coherence, strong talent development, and grew its customer base in all key markets. Within a year of her joining as the CEO, she expanded its presence and production capability in the US with the launch of All3Media America. In 2014, she led the strategic sale of the group at an enterprise value of USD930M to a joint venture between two of the most preeminent media companies, Liberty Global and Discovery Communications.
Prior to that, Farah had a 22-year career at Abbott Mead Vickers BBDO, Britain's biggest
advertising agency, where she learnt her creative practitioner skills and rose through the ranks to become its Chief Executive and Executive Chairman, and member of the BBDO Worldwide Board. During her tenure, the agency created some of the most iconic and creatively awarded campaigns for clients including, British Telecom, EDF Energy, The Economist, General Electric, Mars, Mercedes, and Starbucks. She successfully stewarded the agency through growth, recessions, transitions and turnarounds, and her work was widely featured in the press.
In recognition of her distinguished services to advertising, Farah was awarded CBE
(Commander of the British Empire) in 2011, and was named Business Woman of the Year 2010 by the Asian Women of Achievement Award. Between 2013 and 2015, she was appointed to serve on the UK Prime Minister's Business Advisory Group, a body that advised the Prime Minister and senior ministers on critical business and economic issues facing the UK. In that time, Farah was also Britain's Business Ambassador for the Creative Industries.
Farah is an engaging and passionate public speaker. She has spoken at many political, social, business and corporate forums including at the High Commission of Canada, Islamic
Development Bank, Rothschild Women's Leadership Forum, UK Investment Summit, and World Economic Forum Africa. She has served on the Boards of global private companies, academic institutions, and arts institutions, and is currently a Trustee of Prince's Trust International and Young Vic theatre.
Born in Kenya to an Asian family, she moved to Britain when she was five. She graduated with a joint honours degree in modern languages from Emmanuel College, University of Cambridge, and her curiosity about the world has led her to work internationally. Outside of work, she most enjoys spending quality time with her husband and two adult children, as well as her extended family. Farah is convinced that playing tennis, enjoying art house cinema, and drinking artisanal coffee regularly is the way to stay healthy.