Mr Lawani, a Nigerian national, is a co-founder and Managing Partner of Helios and has 25 years of principal investment experience.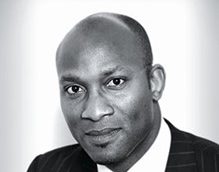 Prior to forming Helios, he was a Principal in the San Francisco and London offices of TPG Capital, a leading global investment firm managing private equity, venture capital, credit and real estate investment funds. At TPG Mr. Lawani had a lead role in the execution of several significant leveraged buyout and venture capital investments, including the acquisitions of Burger King Corp., Debenhams plc., J. Crew Group, and Scottish & Newcastle Retail.
He began his career as a Mergers & Acquisitions and Corporate Development Analyst at the Walt Disney Company. Mr. Lawani serves on the Boards of Directors of Helios Towers plc., Vivo Energy, Axxela, ZOLA Electric, OVH Energy and Mall for Africa. He also serves as a member of the MIT Corporation (Massachusetts Institute of Technology's board of trustees), the MIT School of Engineering Dean's Advisory Council, the Harvard Law School Dean's Advisory Board and the board of directors of The END Fund, a leader in the global health movement to tackle Neglected Tropical Diseases.
He has previously served on the Overseers' Visiting Committee of the Harvard Business School, the MIT OpenCourseWare Advisory Board and on the board of directors of the Emerging Markets Private Equity Association (EMPEA). Mr. Lawani received a B.S. in Chemical Engineering (with a Minor in Economics) from the Massachusetts Institute of Technology, a Juris Doctorate (cum laude) from Harvard Law School and an MBA from Harvard Business School. He is fluent in Yoruba, a widely spoken West African language.